Cooperative allegations proved false [VIDEO]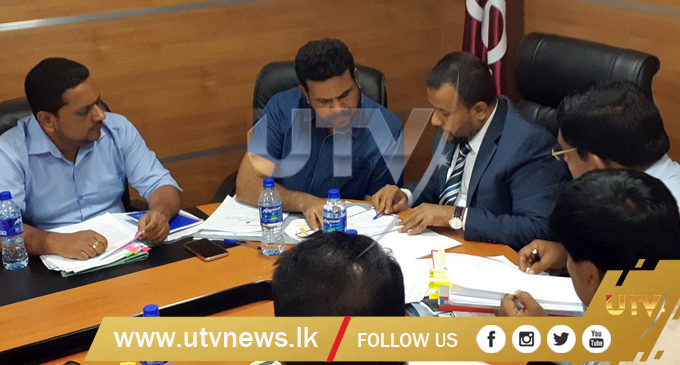 (UTV|COLOMBO) – The Sri Lankan consumer can benefit only when the small scale rice miller is safeguarded. "We praise Minister Rishad Bathiudeen for promptly looking into this issue and clarifying it" said Namal Karunaratne of Lanka Govijana Sansadaya (All island Farmers' Federation – AIFF) on Wednesday (09).
Karunaratne was speaking after a meeting with Minister of Industry and Commerce, Resettlement of Protracted Displaced Persons and Cooperative Development Rishad Bathiudeen at the Cooperative Department, in Colombo.
The meeting was called by Minister Bathiudeen after Namal Karunaratne made false allegations on television against Minister Bathiudeen. At a recent press conference AIFF's Karunaratne alleged that Minister Bathiudeen has led the process of registering a false cooperative entity called as Sri Lanka Rice Producers Cooperative Association aimed at fraudulently collecting funds for it. A Sri Lanka Cooperative Rice Producers Association already exists and therefore registration of another cooperative bearing such a similar name is illegal he said on television, adding that the newly registered cooperative also applied for a loan from a Company in China at more than LKR 1000 million.
Minister Bathiudeen, joined by Secretary of the Ministry K. D. N. Ranjit Ashoka clarified that he does not have any powers to approve loans for cooperatives and clearly showed that his official too did not do so. "Any foreign fund application should go through the Finance Ministry and External Resources Department and not though our Ministry. Our officials have not approved nor recommended any such fund applications. Therefore this is clearly a false allegation" Minister Bathiudeen said and added, "I am also instructing my officials to speed up support work for local cooperatives and to speed up registration processes also."
After clarifications were made, AIFF's Karunaratne said: "We praise Minister Rishad Bathiudeen for promptly looking into this issue and clarifying it." He added, "We made these allegations based on the information we received. We have to safeguard our farmers and millers and that is why we took up this cause. We shall clarify to the media of our error today."
Keeping up to date with breaking news while you are on the move is now simple with UTV Alerts

Type REG UTV and send to 77000

on your Dialog, Airtel, or Hutch mobile connection
❌