'Race the Pearl' cycling challenge on September 13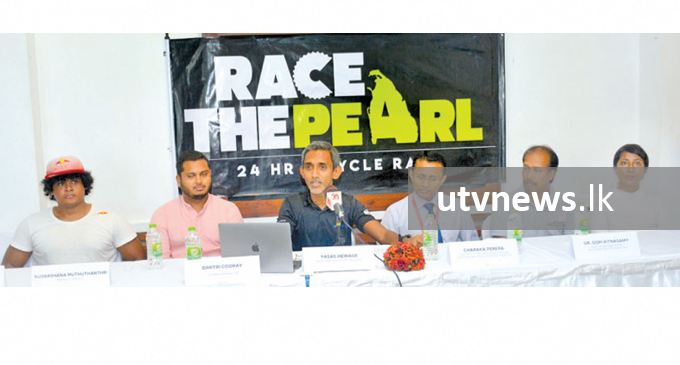 (UTV|COLOMBO) – The 24-hour, 600km ultra-endurance cycling challenge which is being conducted for the second time in Sri Lanka, 'Race the Pearl' will proceed from Dondra to Point Pedro on September 13, 2019 at 6.00 a.m. Cyclists take on the challenge of riding a bicycle in 24 hours as individuals or relay teams while riders will push all known mental and physical limits to endurance, rain, wind and ups and downs in the quest to achieve this extraordinary milestone.
From 12 riders in its first edition in 2018, participation has increased to 30 riders this year. The youngest rider is 17 years and oldest is 71 years and the first female rider will take part in this year's edition. The two cycling legends Boniface Perera and M.A. Sumanaweera who showed their talents in 'Tour de Sri Lanka'(Lanka Savaariya) will participate in the relay event. Boniface Perera will ride from starting point to Wellawaya with a distance of 150km while Sumanaweera will take the lead from Wellawaya to Dambulla covering 200km. The event will conclude with a cycling event for children in Jaffna on September 15 to celebrate the completion of 'Race the Pearl.'
The race is scheduled to start from Dondra, near the historic Devinuwara Temple and take the message of 'Unity in Diversity' through a significant number of towns such as Suriyawewa, Wellawaya,Buttala, Moneragala, Mahiyangana, Dambulla,Mihintale, Vavuniya, Kilinochchi and Point Pedro in Jaffna, the city of the Nallur Kovil and a heaven of Hindu culture.
The aim of the 'Race the Pearl' is three-fold: To put Sri Lanka on the world map of ultra-endurance cycling events among the likes of 'Race Across America' and build its reputation as a world-class cycling event in the Indian Ocean; to encourage all Sri Lankans, from the south to the north, to engage with the race and be inspired to get active, healthy and competitive; and to contribute funds to donate wheelchairs for children suffering from Cerebral Palsy.
Over 2,300 wheelchairs are donated to children who suffer from Cerebral Palsy from 2014 through Wheels for Wheels Foundation.
The inaugural race took place on February 4, 2019, coinciding with the 71st National Independence Day, with Yasas Hewage and Rajan Thananayagam setting a record cycling 600km in 26 hours 38 minutes and 51 seconds while the riders from second edition will look to break this record.
The race is organized by Spinner-Cycling Lifestyle Centre as a continuation of the work done over the last 10 years to promote cycling among Sri Lankans, including organizing Around The Pearl in 10 days and playing a pivotal role in the success of IronMan 70.3 Colombo International Triathlon. Jetwing Hotels, Stafford Motors (Honda distributor), Red Bull, Capital Alliance and WrooM Cycling Club will join hands as sponsors. (Courtesy – DN)
Keeping up to date with breaking news while you are on the move is now simple with UTV Alerts

Type REG UTV and send to 77000

on your Dialog, Airtel, or Hutch mobile connection
❌
Keeping up to date with breaking news while you are on the move is now simple with UTV Alerts

Type REG UTV and send to 77000

on your Dialog, Airtel, or Hutch mobile connection
❌