Sri Lanka storm past Iran, meet Pakistan in West Asia Baseball Cup final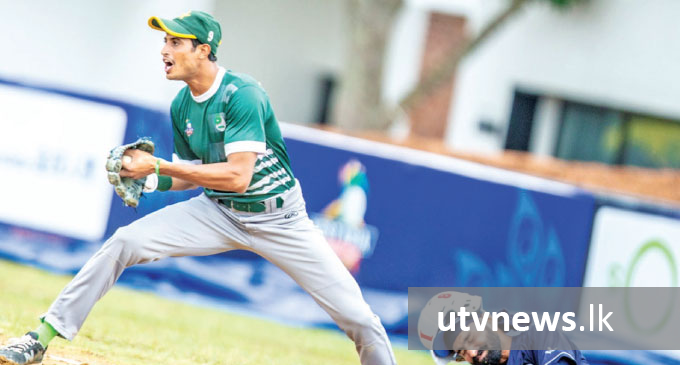 (UTV|COLOMBO) – Defending champions Sri Lanka stormed into the finals of the XIV West Asia Baseball Cup when they scored an emphatic 10-2 victory against Iran in the first semifinal at the Sri Lanka-Japan Friendship Baseball Stadium in Diyagama yesterday.
Pakistan trounced India in the second semifinal and will meet Sri Lanka in the final on Saturday.
Sri Lankan batters revelled in overcast conditions despite passing showers interrupting play in the morning belting the ball to all parts of the field while Iran found the pitching tough to handle.
Sri Lanka grabbed an early 2-0 lead through an error by Iran in the 1st inning, followed by a single by Iresh Kosala in the second inning, and a double by skipper Sameera Rathnayake in the second inning.
Sri Lanka pulled away for 5-2 lead in the second inning after Kosala singled on a 1-0 count, scoring two runs and Rathnayake doubled on the first pitch of the at bat, scoring one run.
Saliya Wijesinghe led things off on the pitcher's mound for Sri Lanka. He surrendered two runs on one hit over one and two-thirds innings, striking out three.
Mohammed Safdari started the game for Iran. He allowed eight hits and eight runs over five innings, striking out one. Kavel Chahbejari and Amir Arefinia entered the game from the bullpen, throwing two and two-thirds innings and one-third of an inning respectively.
Sri Lanka racked up nine hits. Rathnayake and Niroshan Sriyarathna each managed multiple hits for Sri Lanka. Rathnayake led Sri Lanka with three hits in five at bats. Sri Lanka was sure-handed and didn't commit a single error. Sahan Gunasekara made the most plays with nine. (DN)
Keeping up to date with breaking news while you are on the move is now simple with UTV Alerts

Type REG UTV and send to 77000

on your Dialog, Airtel, or Hutch mobile connection
❌