Hong Kong protests: Flights resume as airport authority restricts protests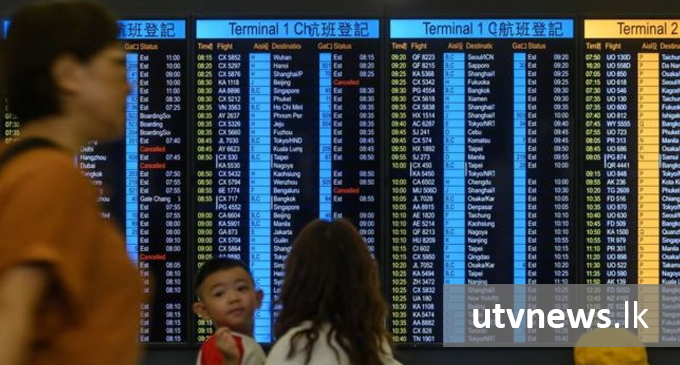 (UTV|COLOMBO) – Hong Kong airport has resumed operations after a night of chaos which saw protesters clash with riot police.
Hundreds of flights were cancelled on Tuesday after protesters flooded the terminal buildings.
Early on Wednesday flights appeared to be running as scheduled, though some still remained delayed or cancelled.
After days of disruptions, the Airport Authority said it had obtained a temporary injunction banning protesters from entering certain areas.
It said in a statement that people would be "restrained from attending or participating in any demonstration or protest… in the airport other than in the area designated by the Airport Authority".
It comes as Hong Kong enters its tenth week of anti-government protests.
What happened at the airport?
The airport, one of the world's busiest, has been the site of daily protests since last Friday but they had been mostly peaceful.
On Tuesday, protesters blocked travellers from accessing flights, using luggage trolleys to build barriers, and staging a mass sit-down.
Some protesters held signs apologising to passengers for the inconvenience caused by their demonstrations.
However, things escalated when one man was set upon by protesters reportedly because they thought he was an undercover police officer.
Police, wearing riot gear and brandishing truncheons, later arrived at the airport and clashed with protesters.
In one video posted to social media, a policeman is seen frantically drawing his gun at protesters after being attacked with his own truncheon.
Protesters had boxed him into a corner after prying the baton from his hands during a violent skirmish. After collapsing to the ground, the policeman was eventually dragged to safety by his fellow officers.
At least two other men, also suspected of being police officers, were later confronted by protesters.
Their actions come after Hong Kong police had on Monday admitted that disguised officers were being planted among anti-government protesters.
The editor of Chinese state media outlet the Global Times later said one of the men attacked was a reporter from the outlet.  (Agencies)
Keeping up to date with breaking news while you are on the move is now simple with UTV Alerts

Type REG UTV and send to 77000

on your Dialog, Airtel, or Hutch mobile connection
❌